Little Troopers case study
How Little Troopers are using Give as you Live to raise funds.

Children and Young People sector
Who are your charity and what you do? What impact has been made with the funds raised?
Little Troopers is the only charity in the UK dedicated to supporting all children who have a parent or parents currently serving in our British Armed Forces, both regular and reserve. There are more than 100,000 military children in the British Armed Forces community and these children often face unique challenges such as regularly being separated from their serving parent or parents due to deployment, training and other military service commitments, as well as moving house and school frequently.
How does your charity use Give as you Live? How do you share Give as you Live with your supporters?
The funds raised on the charity's Give as You Live page play a crucial role in enabling Little Troopers to continue providing fundamental resources and initiatives to military children and their families that they can access whenever they need it and wherever they are based in the world. Families can request Little Troopers separation packs, friendship letter packs and Little Troopers Gazette newspapers at home, as well as downloading free online resources and using the charity's free story-recording app, Little Troopers Treasures. In addition, the charity has a dedicated Little Troopers at School programme providing tangible resources, information and courses for teachers to support service children in the classroom.
What has been your greatest success using Give as you Live?
The charity started using Give as you Live just as it was launching its annual 'Fundraise February' campaign at the start of 2022. Like many charities, Little Troopers suffered from a drop in fundraising over the pandemic and 'Fundraise February' was an opportunity to renew critical funds for the year ahead. The charity encouraged fundraisers to register their own fundraising challenges and events for Fundraise February on Give as you Live, as well as setting up a general donation page for the campaign. Many of the charity's fundraisers are themselves military children and some of the challenges registered on Give as you Live included a sponsored bike ride, a sponsored walk and a sponsored read-a-thon.
Please provide an overview of the charity experience using our Give as you Live platform?
The campaign link was promoted on the charity's website, newsletter and social media pages and because the fundraising events sat within one campaign, supporters had the option to donate to individual fundraisers or the campaign as a whole. The charity also added a pop up throughout the month on its website reminding visitors it was Fundraise February, this linked to the Give as you Live campaign.
Fundraise February was a big success and more than 50 per cent of the funds raised across the campaign were donated via Give as you Live. Fundraisers found the site easy to use, both when setting up an event and when simply donating the proceeds of a bake sale or school pyjama day to the general campaign. Using Give as you Live for Fundraise February 2022 saw a 48% increase on our total donations for the campaign on 2021.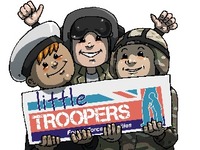 What the charity thinks...
I've been running Little Troopers for more than ten years now and Give as You Live is the best fundraising platform we have used. It's so easy. It integrates well with our website, it's really simple to donate in just a couple of clicks, the information is really clear for supporters and the reporting system is also excellent. – it's really helped us to streamline our fundraising. A great tip is to add your team members to the platform so everyone involved in fundraising and communications can see what your amazing fundraisers are up to and support them where you can.
Louise Fetigan
The founder of Little Troopers
More charity success stories