Little Troopers case study
Little Troopers increased donations by 48% with Give as you Live Donate

Children and Young People sector
Discover the tools Little Troopers utilised to grow their annual fundraiser
"Following a drop in fundraising income during the pandemic, we launched 'Fundraise February' to renew critical funds for the year ahead. The money we raise enables us to provide fundamental resources and initiatives to the children of military families.
"We encouraged our supporters to set up their own Fundraising Pages on Give as you Live Donate for the events and challenges they were undertaking, which included bike rides, walks and read-a-thons.
"We also set up a general donation page, and shared our Campaign Page on our website and social media pages. All of our supporters' fundraising activity was linked to the Campaign Page, meaning donors had the choice to give to individual challenges or to just make a direct donation.
"Using Give as you Live for Fundraise February 2022 saw a 48% increase on our total donations for the campaign, and our fundraisers found the site easy to use to set up Fundraising Pages and to donate proceeds of their offline events."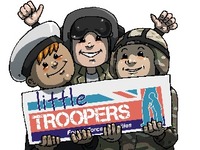 What the charity thinks...
I've been running Little Troopers for more than ten years now and Give as you Live is the best fundraising platform we have used. It's so easy. It integrates well with our website, it's really simple to donate in just a couple of clicks, the information is really clear for supporters and the reporting system is also excellent – it's really helped us to streamline our fundraising. A great tip is to add your team members to the platform so everyone involved in fundraising and communications can see what your amazing fundraisers are up to and support them where you can.
Louise Fetigan
The founder of Little Troopers
More charity success stories