SSAFA, the Armed Forces charity case study
How SSAFA, the Armed Forces charity are using Give as you Live to raise funds.

What does this mean to your charity?
Thank you so much to our supporters! Your gifts ensure that we can provide practical, financial and emotional support to our Armed Forces, veterans and their families, in times of real need.
We want those serving or who have served in our Armed Forces to know that they can depend on us for support ? now and for the rest of their lives. Every year, with the help of our volunteers we assist more than 57,000 people, ranging from D-Day veterans to the families of young soldiers wounded in Afghanistan.
The donations we receive from our supporters help to offer comfort to bereaved families; help elderly veterans stay mobile by assisting with home adaptations and mobility scooter as well as support injured Forces personnel and their families. It is thanks to you and all our other supporters that SSAFA is a lifeline for our Forces family.
Thank you for nominating SSAFA to receive your kind donations and for helping to improve the lives of so many people in need.
What Give as you Live resources have you used to promote it to your supporters?
The Give as you Live resources are fantastic. We are currently using the 'How to' video to tell our supporters about Give as you Live and how easy it is to use. We also downloaded the Give as you Live tool kit and used some of the ideas like promotion during holidays or when booking a summer holiday.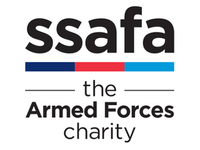 What the charity thinks...
Give as you Live is a great way for our supporters to help us to deliver direct, practical support to the Armed Forces community while shopping at their favourite stores. There are lots of helpful hints and tips for promoting Give as you Live to donors and colleagues as well as excellent materials available for download. It's easy, it's free - what more could we ask for?
Sara Clifton
Charity representative
More charity success stories