Guide Dogs case study
How Guide Dogs are using Give as you Live to raise funds.

What does this mean to your charity?
£10,000 to Guide Dogs supports the partnership of a person who is blind or partially sighted and their guide dog for 2000 days, that??™s 2000 days of freedom and independence. £10,000 helps to provide vital training to a young pup who is just starting out on their journey to becoming a future life-changer. £10,000 helps us to continue to support our Children and Young People service, our campaigns - fighting for the rights of people living with sight loss, our My Guide service, our volunteers and everyone who is affected by sight loss.
What communication channels do you use to promote Give as you Live?
Give as you Live is promoted predominantly through our online channels which include our various monthly e-newsletters, social media, our website and all internal communications.
What Give as you Live resources have you used to promote it to your supporters?
Give as you Live have a robust and user friendly resources page, each campaign can be downloaded in a click of a button and is ready to use with our Guide Dogs logo and the Give as you Live landing page URL that is linked to the Guide Dogs charity. The images are clear and engaging and content is always relevant. I also receive a really useful weekly marketing email that highlights their main campaigns and offers for the week. You can download bespoke images and the email even suggests content to use on social media which is within the character limits! So easy!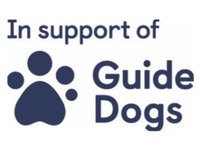 What the charity thinks...
Give as you Live is a really lovely partner to work with. Their staff are professional and friendly, always helpful and super quick to resolve any query! They have a great understanding of how charities work and what our supporters enjoy. Providing us with imagery and resources helps us, as a charity, to promote the service, quickly and easily. Each campaign is unique, relevant to the time of year and they are always hot on what's trending in the public. Their advice has been excellent since I first started working with them and they really just want Guide Dogs to do well and to support us in any way they can.
Sharne Kirkwood
Charity representative
More charity success stories