Dogs for Good case study
How Dogs for Good are using Give as you Live to raise funds.

What marketing assets do you use to promote Give as you Live?
We have used the logos and the links, and asked them to share with their friends and family too. Even though we're a relatively small charity, our online supporters are fantastic at supporting us. We mainly use our social media (Facebook and Twitter) and also through our enewsletters to supporters.
How have the funds raised through Give as you Live helped your charity?
As a relatively small charity, every donation really does make a difference to us. We have lots of costs associated with looking after our dogs' welfare and wellbeing as well as training them, and so the funds raised could contribute to these costs and ultimately will enable us to train more dogs to make life-changing differences for people with disabilities.
What does just £5 raised mean to your charity?
A donation of £5 could be spent in a variety of ways. Paying for a toy for a puppy or a dog in training. It could pay for an important part of the dog training kit – a whistle. We use this to work on our dogs' 'recall' so they come when called which is really crucial for basic training. Or it could pay for a Dogs for Good dog tag which all of our puppies and dogs wear.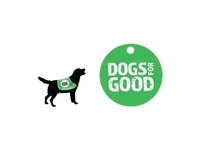 What the charity thinks...
The team at Give as you Live offer so many materials and ideas to support fundraising. We are able to pick and choose what we need depending on how we are promoting the service. All in all, Give as you Live is able to help raise funds and raise awareness of charities large and small, at no cost to the charities. Great idea!
Stephanie Lawless
Community Fundraising Manager
More charity success stories